With the Dark Nights and the 2021 Christmas Season approaching its time to order your Advent Calendar.
There are loads available this year so we decided to take a look at who has them, this is a list of the best ones we've found so far…
They are in no particular order so make sure you read to the bottom to make the best choice. Prices are correct at the time we wrote this post, some include carriage, some charge extra and some have a minimum purchase to get free delivery so make sure to check before ordering.
1 – Craft Beer Advent Calendar 2021 from Bier Company.
Early Bird Offer – £69.95
The Bier Company are offering 24 premium craft beers from 24 different breweries, taking you on a journey across the UK & Europe.
24 cans of craft beer from 24 different craft breweries
3 x Bier Snacks
1 x Bier Co Premium Craft Beer Glass
1 pair of Bier Co Branded Socks
Bier Co Beer Mats
Breweries such as Wild Card Brewery in East London, The Garden Brewery from Croatia, as well as Mad Squirrel, Big Hug, Fierce Beer, Camden, Vocation will be included
The Extras Included:
A selection of 3 out of our 6 Bier Snacks, this includes their new release craft beer pairing snacks Bier Crisps and their original craft beer pairing snacks Bier Nuts
Bier Crisp Flavours (NEW RELEASE): Bomber Cheese, Texas BBQ, Bangkok Sweet Chilli. Bier Nuts Flavours: Classic, Jalapeño, Masala Curry.
Exclusive new release Bier Co premium craft beer glass. Bier Co branded socks, perfect for the lead up to Christmas!
You can buy one HERE
2 – Brewdog Craft Beer Advent Calendar 2021
£49.95
This year's Brewdog box features 24 different beers which range from vibrant IPAs and Pale Ales to decadent stouts and some amazing collaborations. Inside you'll discover 14 new beers for 2021, 6 new for this Christmas and 4 online exclusives.
With their 2020 advent calendar selling out in November last year, you're going to have to be quick off the mark to pre-order yours today.
This is the perfect gift for the craft beer lover or an opportunity to grab the brews you've missed out on and all at an amazing price including delivery.
You can buy one HERE or see the Full Line-up HERE
3 – Beavertown Advent Calendar 2021
£55.00
Sip into Christmas with the Beavertown Beer Advent Calendar. The calendar is split into five mini boxes for your fridge, so you can keep the element of surprise and the 24 beers as cold as a Rocketdeer's nose!
Contains 15 different beers, some you know and love, and some that are yet to be discovered. All beers are vegan.
FREE FESTIVE GLASS also included completing the experience of counting down to the big day.
Buy One HERE or see the full line-up HERE
4 – Beer52 Craft Beer Advent Calendar
£59.99
With 24 delicious craft beers to enjoy each day throughout December, discover why the Beer 52 2021 Advent Calendar is the beer-lovers ultimate gift to countdown to Christmas.
You'll get 24 fresh craft beers from 14 different countries with 16 different styles from the likes of Browar Stu Mostów, North Brewing Co, Lervig, Fierce Beer, To Øl, Peninsula, and many more.
Buy one HERE
5 – HonestBrew Beer Advent Calendar.
£64.90

(Early Bird price

£59.90

until Friday 15th October)
Countdown to Christmas the crafty way with the latest edition of the Honest Brew Advent Calendar. Packed with 24 thirst-quenching delights from a stellar cast of independent producers, it's the ideal way to get a taste of the vibrant and innovative beer community in the UK and Europe, delivered for FREE.
With 11 unique collabs and plenty more exclusive beers, this is a calendar you or the beer lover in your life won't want to miss out on. Particularly, because this year's new, interactive design means there are chances to win prizes and learn more about each beer through a QR code on the box.
Buy one HERE
6 – Beer Hawk 2021 Advent Calendar
£85.00
Go on an adventure into the incredible minds of the World's best brewers with the Beery Christmas Advent Calendar!
Every evening throughout December, thousands of beer lovers across Europe will be discovering new beers brewed exclusively for you by the best breweries on the planet, including Mikkeller, Omnipollo, Thornbridge, Tiny Rebel and Basqueland.
But one HERE
7 – Tiny Rebel Advent Calendar 2021
£87.50
Tiny Rebel has arrived to save Christmas with an advent calendar filled with 25 brand new, calendar exclusive beers, and a Tiny Rebel Teku glass to enjoy them in. When they say exclusive, that means 25 collectable cans that will never be available again and only in their Advent Calendar.
Tiny Rebel want to give you the best Christmas experience, so they have created a unique Tiny Rebel Advent Calendar which includes:
10 x Calendar Exclusive 440ml Cans
15 x Calendar Exclusive 330ml Cans
1 x Tiny Rebel Teku Glass
So with an average ABV of 6.7% this is the Advent Calendar you've been waiting for!
Buy One HERE
8 – Craft & Berry Real Ale Advent Calendar 2021
£75.00
24 Bottles of Yorkshires best real ales presented in a Christmas advent calendar, the perfect gift for beer lovers. A good mix of pale ales, bitters, stouts and porters to tantalise the taste buds!
Buy one HERE
9 – Beerwulf Beer Advent Calendar 2021.
£65.99
The ultimate way to count down to Christmas!
Join the festive fun with a Beerwulf Advent Calendar, 24 extra special beers from 24 unique brewers. Get your daily dose of Christmas cheer when you open each door and reveal a new surprise beer. A Christmas treat for every day of Advent!
Get one HERE
10 – Beer Hunter British Craft Beer Advent Calendar 2021
£69.95
The Christmas countdown is on! And what better way to kick start the festive season than with this Best of British Craft Beer Advent Calendar. Containing 23 hand-picked British Craft Beers from the UK. Which will give you the opportunity to sample your way to Christmas!
Our one of a kind British Craft Beer Advent Calendar is packed full of beers with a range of styles from IPA's, Pale Ales, Pilsners, Lagers & Seasonal Specials. From some of the finest breweries across the UK including Tiny Rebel, Brewdog, Magic Rock, Camden Town & Many Many More…
The perfect treat for anyone who calls themselves a beer lover, whether that's you or someone special in your life.
Get one HERE
11 – A Very Thornbridge Christmas Advent Calendar 2021
£70.00
Go on a craft beer journey this December with The Inaugural Thornbridge Advent Calendar.
With 24 different beers to help you get fully in the festive spirit this Christmas season!
Advent calendar contains: 9 x 440ml beers plus 15 x 330ml beers and Vouchers & Christmas Socks
Get one HERE
12 – Kalea German Beer Advent Calendar 2021
£69.99
We spotted this one which is only available in Germany and Austria, BUT can be bought through Amazon UK.
Count down the Advent season: 24 windows & 24 beers. Each beer is selected from an independent German craft brewer with a range of styles including Bavaria's Märzen, IPAs pilsners, Hefeweizen and more.
24 x 330 ml Bottles (earliest best-before date March 2022) Including 1 x Kalea Beer Tasting Glass
For further insights on all included beers and breweries you can check out the information on the BeerTasting App which can be downloaded free of charge for Android and iOS
Go to Amazon HERE
13 – Leatherbritches 24 Beer Advent Calendar
£66.00
If you want to keep it Local then this has to be the one…
Each day the advent calendar will contain 1 beer as well as a couple assorted chocolates, it also comes with a selection of Leatherbritches brewery beer mats.
This pack will contain the following:
2 x 440ml cans
22 x 500ml bottles of real ale
6 x Leatherbritches brewery beer mats
An array of chocolate goodies with each beer.
All of their bottled beers are bottle conditioned, this means there is a live yeast sediment in each bottle. please pour carefully paying close attention to leave the sediment behind assuring you have a clear pint.
All bottles are bottled by hand on site at Leatherbritches brewery.
Get one HERE
14 – Siren Craft Beer Advent Calendar
£90.00
Countdown to Christmas with this unique craft beer advent calendar. You'll find exciting new treats, festive favourites and several exclusives hidden behind each window.
They've enlisted their brewery experts to create an advent calendar for Christmas 2021 with the latest freshest beer direct from the brewery in Finchamsptead. Behind each window you'll find a range of beer styles to suit all tastes including IPAs, Lagers, Sours, Imperial Stouts, Winter Warmers and Nitro infused delights…
They promise there will be exclusive beers and daily surprises. ABVs range from 4.2% to 10.3%, there will be 10 x 330ml cans and 14 x 440ml cans throughout the month.
Get one HERE
15 – Seven Bro7hers Advent Calendar
£64.99
Count down to Christmas Eve, with a surprise mix of 24 beers from the SEVEN BRO7HERS range.
This advent calendar features cans from their year round range of 330ml and 440ml cans.
All to help you have a beery Christmas!
Get one HERE
16 – Bath Ales Beer Advent Calendar
£79.99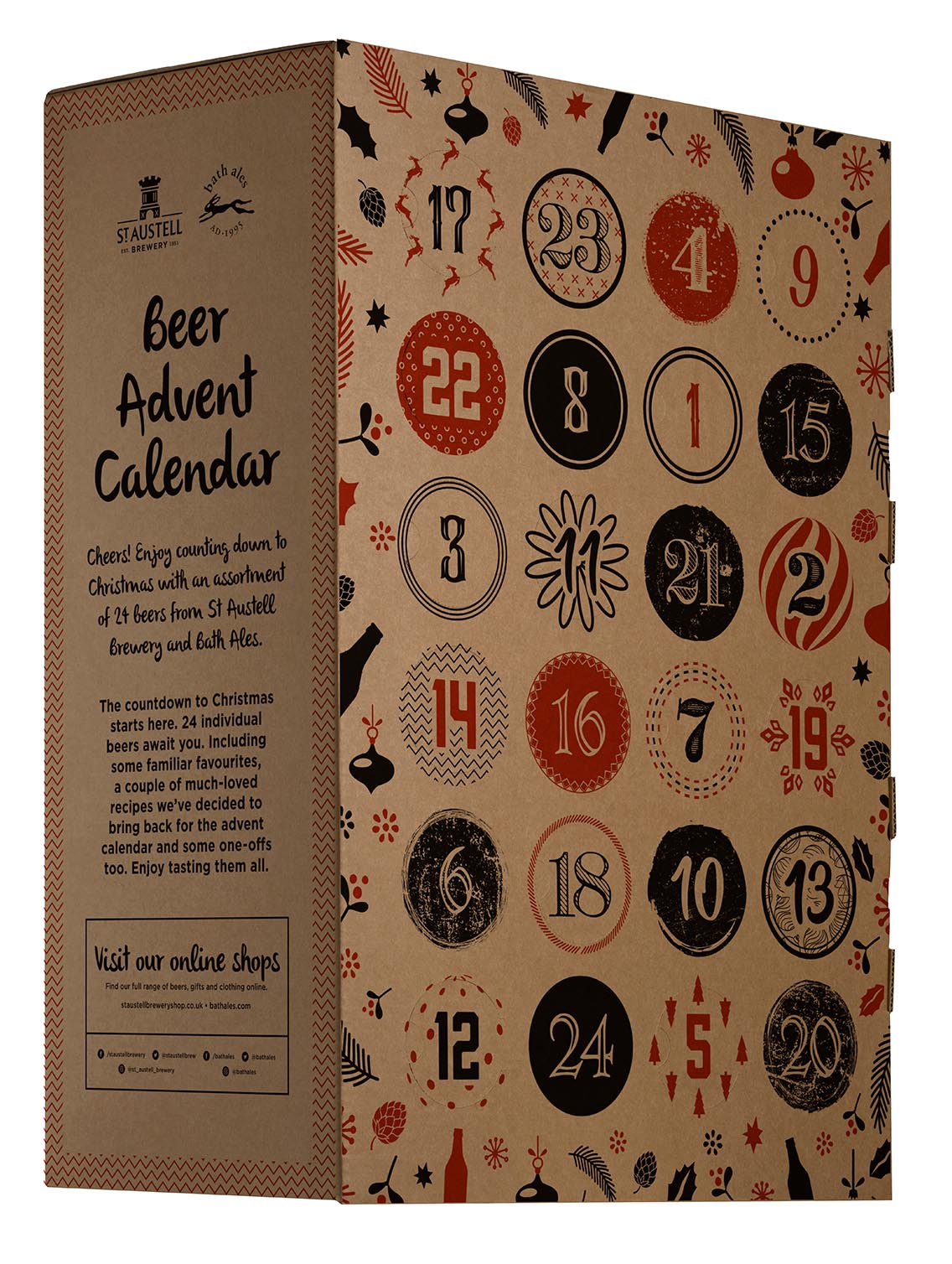 What better way to celebrate the festive season than enjoying a different beer every evening? As well as your favourite Bath Ales brews you'll find great beers from St Austell Brewery, a couple of festive favourites and some much loved recipes especially for Christmas. From smooth chocolatey stout, to punchy milkshake IPA and a selection of Belgian brews, there's a huge variety of beer styles to explore in the run up to the big day.
Get one HERE
17 – Brew York Advent Calendar
£49.99
It's a Christmas miracle, it's finally here! Pre-order your Brew York advent calendar now to avoid disappointment this holiday season.
12 beers for the final 12 days before Christmas Day, containing 12 x 440ml Brew York beers to get you into the festive spirit. Including 4 x Christmas special beers (including a barrel-aged State of Mind release that is exclusive to this advent calendar!)
Order yours HERE